CLOGGED PIPES CAN BE DRAINING. AT AMERICAN SEWER, WE GET YOUR SEWER SYSTEM WORKING AGAIN WITH PROFESSIONAL SEWER & DRAIN CLEANING IN MINNEAPOLIS AND SURROUNDING AREAS.
WHY CHOOSE AMERICAN SEWER?

FREE ESTIMATES
It's hard to know what's really the issue in your sewer system. We get it. That's why we offer No-Obligation, Free Estimates.

GET IT FIXED QUICK
Every minute your drain or sewer is clogged is additional stress on you and your family. We get your pipes working again. Fast.

KEEP THE CHANGE
Owning a home is expensive and managing your sewer & drain system shouldn't be. We serve you with affordable rates.

ALWAYS AVAILABLE
Toilet (and sewer) disasters can happen at any time. We're on call 24/7 to get you working, so you don't have to worry.
"Rob did a great job with a tough sewer job. At one point he said that "it was the most difficult one he'd ever had to do." Even with that the price was as agreed upon before the job began. I was even very impressed with the receptionist – she took the time to answer all of my questions over multiple phone calls. I would definitely call American Sewer for my next plumbing job."
MEGAN / BLOOMINGTON, MN
If your drain or sewer system is already clogged, the shower floor covered with sewage water, or, if you're concerned that your sewer may have a clog in the future, American Sewer will get (or, keep) your drains working.
YOU'RE 3 STEPS AWAY FROM A WORKING SEWER SYSTEM

CALL FOR FREE ESTIMATES
We'll give you an immediate, free estimate over the phone. Call now at 612-246-4800.

GET IT FIXED QUICK
Once we've finished our free estimate phone call, we'll send you a no-obligation quote.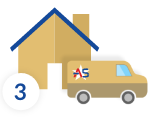 KEEP THE CHANGE
After a quick quote-approval, we'll get to your family's "toilet life" back on track.